The eternal city is full of amazing sites, sounds and tastes that will spark excitement in every family member. With its medieval alleyways, historic monuments, archeological digs, beautiful churches, grand palaces, and of course world famous cuisine even the toddlers in your family will find something to enjoy. But with so much to see, do and eat in this city it will be difficult to tick all the boxes, especially when travelling with young ones.
Visiting the sites : Almost everyone will tell you that the best way to see the sites of Rome is with a tour guide. But is the answer the same if you have children in tow? Well, majority of the time, yes, it is.
Walking tours are very popular amongst families as well. Having an organized tour not only helps to provide excellent insight into the sites you are visiting, but it also helps to keep your time structured which is very important to children. Unless you (the parent) have extensive knowledge of the city, you will not be able to give your children any context as to where you are and what you are seeing. With this said however, kids will be kids so they are likely to get bored, hungry and tired at some point so it's important to keep the children in mind while choosing walking tours in Rome. For example, when visiting the Vatican City, a 3 hour Vatican Highlights Tour would be more suitable for children, compared to a Vatican 5 hour In-Depth tour which would take most of the day and leave your children exhausted.
To get the most out of visiting the sites with children, and for the best family tours in Rome, it would be ideal to have a private guide, just for your family. When you book online you can request to have a kid friendly guide who will help to bring the sites to life for the littlest of explorers.
If you are unable to have a private guide then we always suggest bringing your kids to the front of the group so that the guide can engage more with them, keeping them interested. Considering the fact that kids usually have plenty of questions, it's best to have them front and center so they can ask till their heart's content..
So, here are some ideas that you might help, we have two separate lists one with the popular attractions your kids are going to love, the other would contain some offbeat fun ideas.
The popular attractions for kids:
The Colosseum
No matter what the tourist agenda might be, the Colosseum will always be the top priority. The ancient amphitheater with all its magnificence is going to thrill children of all ages. Coupled with the stories of gladiators, never seen before animals, naval battles and much more more, their imagination will run wild.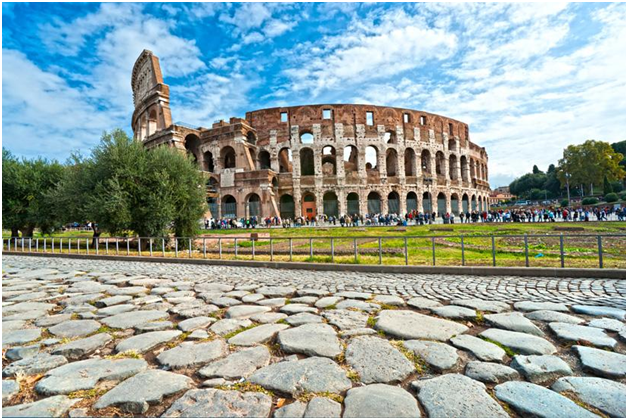 Ostia Antica
Just a short train ride out of the city of Rome is Ostia Antica, the ancient port of Rome. As the river changed its flow, this Roman port was abandoned almost overnight. Very similar to the ruins of Pompeii, Ostia Antica gives a glimpse into how an ancient city used to function. However, unlike Pompeii, you are allowed to freely explore a huge part of Ostia Antica on your own. And this means touching, climbing and playing. Once a port of Rome, it is also a very short distance to the beach so you can consider touring the ruins in the morning and then spending the afternoon at the beach.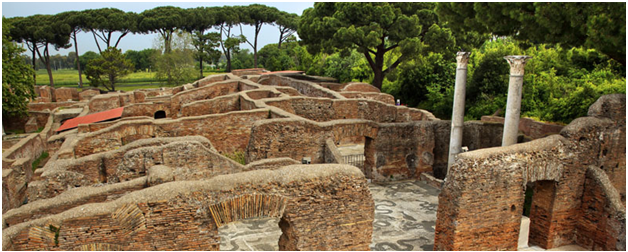 Torre di Largo Argentina and the Cat Sanctuary
Although you are not free to walk around these ruins which are right in the heart of Rome, you are allowed to go below street level to reach the cat sanctuary of Largo Argentina. Around 200 cats roam these ruins, with even more up for adoption inside of the sanctuary itself. The cats are all well fed and have access to a veterinarian daily so even though some may look a bit mangy, they are generally safe to approach and pet (if you can catch them). Grab a piece of Pizza at the nearby pizzeria and enjoy the beautiful view of Roman ruins alongside many furry friends.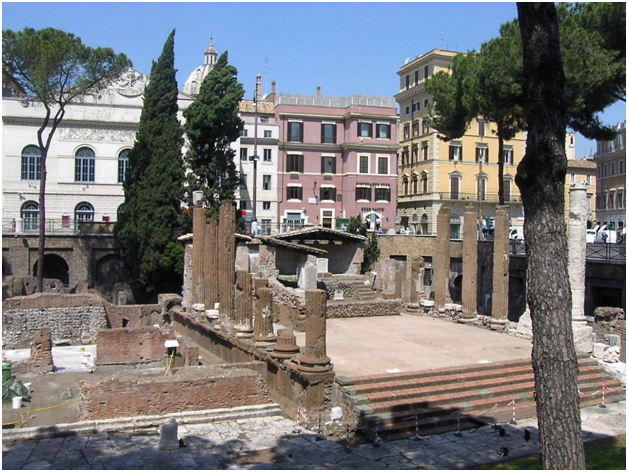 Vatican City
We cannot say that Vatican is the most child friendly of the sites, however it will definitely be on your to-do list so here are some of the sites in the Vatican which we know your kids will enjoy.
– St Peter's Basilica: This church is the largest in the world so it's hard not to drop your jaw in awe when walking into it. Inside the church itself there are optical illusions, 'secret' markings, mummified popes on display, and numerous amazing strories so it will be best to have a guide lead you though so you don't miss anything.
– Vatican Museums : The Vatican Museums are the largest collection of art in the world and to say the least, these museums are not for everyone. However, when in Rome, it is hard to leave out the Vatican Museums. We find that what children seem to enjoy the most in the Vatican Museums is the Hall of the Animals with never seen before beasts, the Egyptian Collection with its mummies, and the Vatican Gardens.
– St Peter's Dome: If you are not afraid of heights then the Dome of St Peter's Basilica is something that all children love to do. Not only is it a spectacular view from the top, but it's a lot of fun just making your way to the top. At some points you have to hold onto a rope and circle around a small spiral staircase, at another point you are looking down into the basilica from the inside of the dome, it is really a small adventure that your kids will be glad to have done.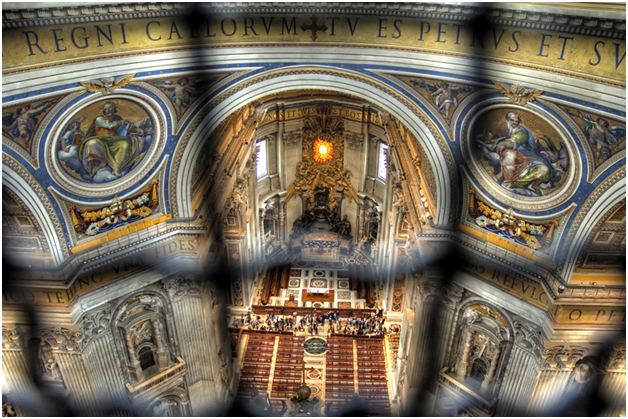 The Catacombs of San Callixtus
Rome has many different sets of Catacombs but some of the largest are the ones of San Callixtus. Included in the cost of admission is a tour guide who will lead everyone through while giving explanations and making sure no one gets lost. The mystery behind it all makes it a great place for a child to visit as their imagination will run wild.
The Crypt of the Capuchin Monks
Another morbid yet interesting site to visit is the Crypt of the Capuchin Monks, located just off of Piazza and Metro station 'Barberini', it's easy to reach and a quick activity as it only takes about 30min of your day. Around 3700 friar skeletons and skulls are carefully placed throughout the crypt as decoration which makes it the creepiest site in the city, guaranteed to make your kids squeal with delight.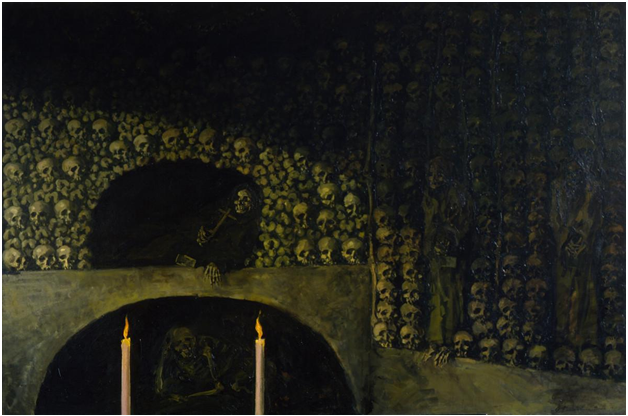 Here are a couple more fun ideas your children may enjoy:
Gladiator School: After learning about the many thrilling tales of Roman gladiators at the Colosseum, why not let them have an afternoon of fun at Rome's Gladiator School. With different classes and even more costumes available it is a lot of fun for the whole family.
Enjoy a puppet show looking over the city: Once of the best viewpoints looking over the city of Rome is the Gianicolo (Janiculum Hill) and this is also where you will find the Teatrino di Pulcinella al Gianicolo (puppet theater), where you can enjoy a puppet show and have some fun.
Chill out in the park: Head to Rome's most famous park; Villa Borghese. Basically the central park of the eternal city, there is much to see and do. There is a small lake in the park so you can enjoy a boat ride, rent a 4 person bike and cruise around the park or even board a hot air balloon for a unique view of the city. Rome's zoo is located on the north end of Villa Borghese which is always a winner for children.
Pizza or Gelato making class: Your kids will definitely enjoy eating pizza and gelato, so why don't you allow a chef to show them how it's done. There are different cooking courses available in Rome however pIzza and gelato classes are the most popular for children. More than just a wonderful learning experience, it can also be a lot of fun as well.
As you sit down to plan your itinerary, we think it is best to spread out activities to ensure that your kids do not get too tired and bored with what you are most interested in, while making sure that you tick off all of the sites that your children are interested in. Rome has so much to offer, and we hope that this article will help you and your little ones make the most of it and create some memorable moments in Rome.