It is safe to say that almost everyone in every corner in the world has eaten pizza at least once in their life. Whether it be from your local pizzeria, or perhaps from Domino's or Pizza Hut. Although the main ingredients are most often the same, one small change to the recipe can make a world of a difference. Without getting into the argument surrounding the Neapolitan version (thick crust) and the Roman version (thin crust) a good pizzeria should make you realize that whatever pizza you eat at home, just does not compare to the pizza you eat in Italy, so let's get straight to the point.
In Rome, like most of Italy, you have a couple different variations, such as…
Pizza al taglio which translates to pizza by the cut. These pizzas are generally square shaped and are very popular as a street food quick option. The pizzas are already made so all you have to do is choose the one (or ones) you like, tell the pizza maker how big or small you want the slice to be, and enjoy! Depending on how you ask the pizza maker to serve you, they may give it to you in a box for when you arrive back home, or if you are in a rush, they will fold the pizza on top of eachother so it is almost like a sandwich which you can eat on the go.
Pizza tonda is your classic round shaped pizza which you would get from a sitdown pizzeria, or delivery. Most Roman pizzerias serve thin crust pizza, however you may be able to find the Napolitan thick crust in Rome as well.
Last but not least, you have the pinsa pizza. To the untrained eye, it may seem like a normal pizza; however, pinsa pizza tends to be in an oval shape, smaller than the italian classic pizza with a thicker dough throughout, not just around the crust. This is due to the different flours used to make it. Pinsa pizzas dough is made from wheat, rice and soy flour which makes it soft yet thick and much easier to digest. With such little yeast in the pinsa dough, it must sit and rest for 24 to 60 hours.
If you see this on the menu we suggest you give it a try!
Now you might debate whether you should get the rectangular one, the whole pie, or, should you sink your teeth into the doughier version with a thick crust, or, a crispy-er base that the Romans are in love with. The best decision that you can make here is, try everything, give your taste buds a treat and enjoy the moment as different flavors and textures dance in your mouth.
Here is a list we have put together of our top five places in Roma where you can have the most authentic pizza experience.
Bonci's Pizzarium:
Via della Meloria, 43, Roma
bonci.it
When it comes to pizza al taglio, this pizzarium tops the list of most pizza lovers who know of it, and rightfully so. Legendary pizzaiolo Gabriele Bonci has perfected his pizza dough making a base which is hard to top. Only premium quality flour is used and the fermentation process is lengthy so you end up with a flavorful, light yet crusty dough that comes with an amazing assortment of toppings; burrata cheese, pancetta, potato, artichoke, bresaola and many more; the innovation does not stop. This pizzeria is only a few blocks from the entrance of the Vatican Museums so it's a great place to fuel up before starting your Vatican Tour. Just make sure that you finish all your pizza in advance as the Vatican will not allow any open food into the museum.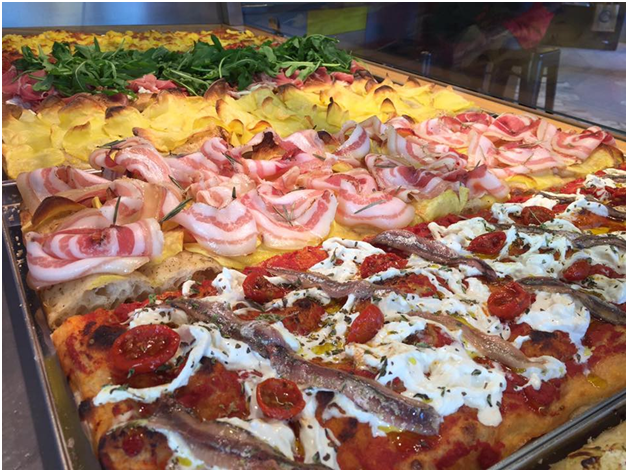 La Gatta Mangiona:
Via F. Ozanam, 30-32
www.lagattamangiona.com
If there was a place to resolve the neverending discussion of the Pizza Napoletana vs Pizza Romana, then La Gatta Mangiona could be the place. This is the place where both conflicting styles merge to gift pizza lovers with the best of both worlds. There is a cross between two distinct styles of pizza making, so the end result is a pizza that is deliciously thick and chewy, with a crispy crust. Of course, they also take plenty of time to ferment the dough so that it grows to perfection. The name 'La Gatta Mangiona' roughly translates to the cat that eats a lot so if you are asking yourself why there are dozens of drawings and cats pictured on the wall this is the reason. The have a young and friendly staff and it is a great place to come with your family.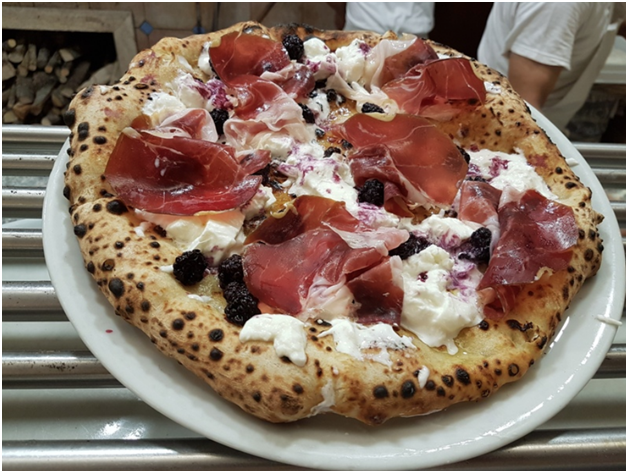 Pizzeria da Baffetto
Via del Governo Vecchio, 114
www.pizzeriabaffetto.it
If you are looking for the typical Roman pizza experience in Rome then Pizzeria da Baffetto is hard to beat. Imagine a restaurant which uses white paper table coverings, metal pizza plates, stained ceramic carafes of house wine, bottles of beer, constant noise from both clients and waiters alike, and cutlery quickly dumped on the table once you sit down… It doesn't sound great. But this is only because there is most likely a huge line at the door of hungry Romans waiting to get their fill. Paper table covers are quick and easy to clean, metal plates don't smash and the carafes are easy to wash and these are just the things this restaurant needs to feed hundreds of people throughout the course of the night.
The pizza is classically Roman, a very thin base with a crispy and slightly burnt crust. Their other specialties are also worth a try if you are not on a diet because for the most part, they are all deep fried; baccala (cod), suppli (rice and cheese balls), mozzarella balls and much more. I know we have not done a great job promoting this place however with the hundreds of photos lining the walls of happy patrons, famous football (soccer) players, politicians, musicians and movie stars it is easy to see why this pizzeria has become a legend of its own.
Last but not least, this restaurant is located very close to Piazza Navona so it is the perfect place to stop after your evening tour of Rome.

Pizzeria Formula 1
Via degli Equi, 13
www.facebook.com/pizzeriaformula1roma/
Another classic Roman pizzeria is Formula 1. Located in the student district of San Lorenzo, it is all about bang for the buck. Loud and very bright, just like a good pizzeria should be, a clean place to sit down and eat pizza. Of course there are some other things on the menu but with the smell of the wood burning pizza oven it will be hard to resist anything else. If you do not speak italian then this restaurant may seem intimidating as it is well off the beaten track of most visitors, however not to worry as Rome hosts students from all over the world and they do their best to make you feel comfortable before bombarding you with delicious bruschette, fried antipasti and thin crust pizza. But, when in Rome, do as the Roman's do and just keep eating.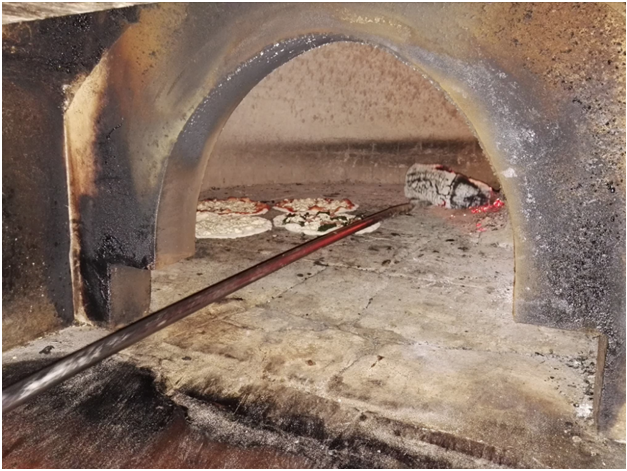 Pinsa 'Mpò:
Via dei Gracchi, 7
www.pinsampo.it
If you are looking for another great place to grab a quick bite to eat before or after your private family tour of the Vatican then Pinsa 'Mpò is a great option. Located just a couple blocks from the walls of the Vatican, you cannot go wrong.
Unlike some of the other places we've listed here, Pinsa 'Mpò uses ingredients most commonly found in and around Rome and this rustic tradition does give the pizza its own unique flavor. This is another place on this list which believes in using only seasonal, fresh, ingredients for pizza making, so, no matter how much you indulge yourself, no worries. The pizza that you get here is comparatively smaller than your classic personal pizza, however the thicker dough makes up for it. Along with being absolutely delicious, it is also very light to digest, something that makes it an ideal food when walking around the beautiful streets in Rome, or after your tour of the Vatican City.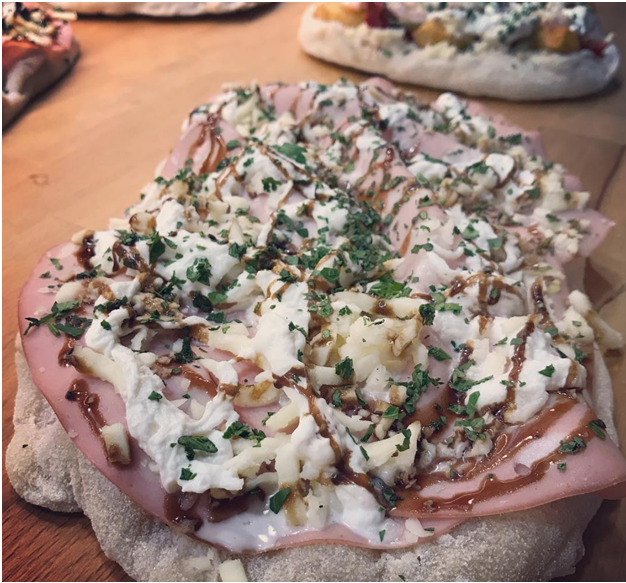 With that we come to the end of our pizza tour, Rome is home to some of the most fabulous pizzerias and we hope that you are able to try as many as you can.
Buon Appetito!