Papal Audience
The Weekly Wednesdays Audience usually starts at 9:00am. The very popular Pope Francis is drawing in large crowds so if you would like to get a good seat you will need to arrive up to 3 hours before the audience begins. The audience lasts for around 1.1/2 - 2 hours. During the Audience the Pope will give speeches in various languages, the main languages being English, French, Spanish, German, Polish, Portuguese, Italian amongst others. English is usually the third language along and at the very end of the audience the Pope imparts a blessing upon the crowd which also extends to those at home that are sick or suffering an also any religious articles you have with such as Rosary beads etc. You can leave the audience before it finishes but if you wish to receive the blessing you will have to stay until end.
Papal Audience Schedule 2023
January 2023 | February 2023 | March 2023 | April 2023| May 2023 | June 2023 | July 2023 | August 2023 | September 2023 | October 2023 | November 2023 | December 2023
For information of upcoming Audiences click on the Official Calendar above

Please see the following link for the unofficial Papal schedule which can be used as a reference until the official schedule has been updated.
Papal Audience or Papal Mass Tickets
IF you need less than 10 tickets you can pick up your tickets with out reservation from the Swiss Guards at the "Bronze Door ". You can collect your tickets 1 day before (not before) the papal audience/mass with the pope, or the morning of the audience, until 9:00am. (not Valid for Easter Midnight Mass or Christmas Evening Mass, more info Click Here ).
If you need more than 10 tickets you should make a reservation in advance if possible. To reserve in advance Click Here
Tickets are entirely free! You can collect your tickets directly from the Swiss Guards in St. Peter's Square at the "Bronze Door" from 3pm till 7pm: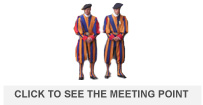 Papal Blessing - Pope on Sundays - Angelus
The other opportunity to see the Pope is on a Sunday at 12 noon when he is in Rome. He will appear from the window of is apartment where he gives a short speech followed by the Angelus and ending with a blessing He may also greet the crowds in various languages and the whole event usually lasts around15-20mins. He will impart the Apostolic Blessing at the end of the prayer.
You DO NOT need tickets for the Sunday Angelus.
Masses with the Pope at the Vatican
Papal Masses:
Masses with the Pope at the Vatican can be celebrated in St Peters Basilica, in St Peter's square or both together depending on the celebration and the expected number of people attending.
Masses with the Pope at St Peter's Basilica:
Most of the masses from the Papal liturgical calendar at are celebrated at St Peters Basilica.
St Peter's Basilica has a huge capacity and can easily host more than 15.000 people which seems big enough for most of the Papal Masses. However there are some Masses when the Holy See is expecting a larger number of people and for those Masses they will use St Peters Square. For more details please see " Masses at St Peters Square". Normally the Holy see issues different kind of tickets for St Peters Basilica Masses. Tickets for Cardinals, Governors and Diplomats ,Bishops, Priests, special guests and public tickets. For most of the Masses with the Pope you will need to have a ticket. Tickets are always free. If you have a regular ticket to participate in a Papal Mass and you are looking for a good close up picture of the Pope or a location close to the Altar you will need to arrive early to the Mass. Don't forget that to attend these celebrations you will need to pass through security scanners (like the airport) and long lines are to be expected. We recommend you if you have a regular public ticket and you are looking for a good place to arrive 1- 3 hours before the scheduled start time.
Tickets for masses at St. Peters Basilica with the Pope:
If you need between 1 - 6 tickets you can normally get tickets directly from the Swiss Guards usually 1 day before the Mass: Click Here. However if it's a Popular Mass such as Christmas Eve or Easter you will need to reserve tickets in advance to guarantee availability. If you will need more than 6 tickets for any of the Masses you will definitely need to reserve in advance, and then collect your tickets usually 1 day before the event from the Prefecture of the Papal Household for more detail: Click Here.
Tickets for special guests: (Tickets for special guest or reparto speciale): These tickets giving you a special location at the event or Mass with the Pope. Normally these tickets are reserved only for religious guests through a reservation applied though the church or any other religious institution.
Tickets:
The tickets will be asked for at the entrance of the Mass. Remember:
Tickets DOES NOT necessarily guarantee entrance or a seat.
When the church /Square is full access will be denied even with your ticket.
Only your arrival time will guarantee your access so come early..
Masses with the Pope at St. Peter Square
If the mass is celebrated in St Peter's Square, the number accommodated is much larger than the Church. St Peter's Square can host up to 80 000 people. So normally for the seated area you will need a ticket but mostly you can attend standing without a ticket. However there are big Masses such as important canonizations or the Urbi et Orbi blessing than attract huge numbers and St Peter's Square is not big enough.
Again, places will only be be guaranteed according your arrival time.
Christmas Eve Mass Midnight / Easter Mass at St Peters Basilica
Easter Masses & Christmas Eve Masses are traditionally celebrated at St Peter's Basilica. Capacity is limited and it can be very hard sometimes to get tickets for these events so you must book far in advance, no less than 3 months usually.
Reservation Procedure:
The best way to get your ticket for Easter/Christmas Masses is to send a request from your country directly to the Vatican between 6 to 2 months in advance. If the number of your request is not very large, lets say a family numbering 2-6 tickets you will have a bigger chance of getting your tickets. Normally the Vatican will reply via email notifying you that they have received your request and where to take the letter at the Vatican to collect tickets. They will not confirm tickets have been issued until you go to the prefecture office for collection. There you will either receive your tickets. Again, the sooner you make you reservation the more chance there is of availability The smaller the number of tickets requested the higher the chance of having your request granted so we suggest don't book extra tickets unnecessarily. If you order a large number of tickets such a group or more than 10 tickets we recommend you to send the request together with a letter of your parish or some authority of the church. Tickets are collected at the Preffetura Vaticana located just after the "Bronze Doors" at St Peter's Basilica normally from 5-4 days days before the event from 8am till 6 or 7pm depending if it's winter or summer
TICKETS ARE ALWAYS FREE !!!
Papal Audience & Masses Information & Tips
Papal Audience & Masses Tips
The Papal Audience is generally scheduled to start at 9.00am. However, you will find that most people will arrive early to get a good seat. Security opens between 7 - 7.30am, large numbers tend to arrive between 7:30am - 8.30am especially during high season when more people will be attending. In Summer the audience is usually held in St Peter's Square to accommodate the large crowds, there is a seating area near the front for those with tickets but it is still a first come first served basis so again to get a good seat you should arrive early. If you are unable to arrive early or get a ticket in advance, again as the the audience is usually held in St Peter's Square during the Summer season it is still possible to access the Square and participate as there is plenty of standing room.
Pope in summer time Holidays
Although the Pope holds the Audiences regularly on Wednesdays there are times when he may be on a Pastoral Visit around Italy or overseas or he may be enjoying the Italian holiday period in his summer residence of Castel Gandolfo during the month of August, in which case the Audiences will not be going ahead. The Vatican do list the dates of Audiences and events on their website and they normally update it periodically, usually 3 months ahead of any scheduled dates.
You can check the calendar of events by clicking the following link:
http://www.vatican.va/various/prefettura/index_en.html
Papal Audience in St. Peter's Square, Vatican, Rome
As Rome can get extremely hot in Summer, particularly June, July, August and the Audience is outside it is good to come prepared!. BRING HATS, SUN SCREEN AND WATER, you can also bring something to read or occupy yourself with while you wait for the Audience to start. You will need to pass through Security scanners similar to the airport to access the audience, it is advisable to bring only small bags or backpacks and Items such as pocket knives, corkscrews, scissors and similar objects will not be permitted through the checkpoint. Security opens between 8 - 8.30am.
Papal Audience Held at Hall Paul VI, Vatican, Rome
In Winter the audience will be moved indoors to the Hall of Pope Paul VI located to the left of St Peter's Basilica at the Vatican as you face the Church behind the Colonnade. Although there may be less people attending during winter the Hall can only accommodate a certain amount of people so again to get a good seat and to be guaranteed entrance you should arrive when security opens around 8 - 8.30am. They will not permit entrance even with tickets once the Hall is full.
Papal Audience in Castel Gandolfo
Occasionally in the past during the Holiday period of August/early September the audience has been held in the Pope's Holiday Residence of Castel Gandolfo. Castel Gandolfo is around 1hr outside of Rome, it is possible to reach there by Public transport but both the buses and trains do not run very often. You can either take Metro line A to Anagnina Station and from there the Cotral bus to Castel Gandolfo. You would need to be at Anagnina by 8am to get a bus early enough to get you to the audience on time as again they run very infrequently, almost every 2hrs. The other option is taking a train from Termini Station and you will need to check the hours but the trains do run more often than the buses. The Castel Gandolfo train station is located at the bottom of the hill upon which you have the Pope's Palace, you should expect a fairly steep climb to the top.
CLICK ON THE ICON BELOW To See a Timetable Example Roma Termini (Train Station) to Castel Gandolfo "Down Hill" (add 40 minutes walking to the Top):

Alternatively the Pope may reside at Castel Gandolfo and be Helicoptered into Rome for the Audience and back again. Again, a good way to keep updated is to check the Vatican website, although they do make last minute changes!
Masses at St. Peter's Basilica (Vatican)
You can attend a regular mass at St Peter's Basilica celebrated by Priests from the Vatican (Not the Pope!) on a daily basis.
Monday - Saturday masses are:
7am ; 8am ; 9am ; (sometimes 10am) ; 11am 12pm and at 5pm.
Sunday morning Masses are:
7am ; 8am ; 9am ; *10.30am and 12pm. * The Sunday Solemn Mass is celebrated at 10.30am. To get a seat in the Solemn Mass you will need to be inside the Basilica by 9.30am. You will also need to make allowances for the time it takes to get through security into the church.
Sunday Afternoon Masses:
Start 4pm followed by Vespers at 5pm and concluding with the last mass of the day at around 6pm.
Pontifical Celebrations:
Pope Schedule 2023 - Official Liturgical Calendar

For information of upcoming Masses or Liturgical Celebrations click on the Calendar
To apply directly with the Vatican

Click on the icon to download request form Fill out the form to the left and send directly to the Prefecture of the Papal Household:
Prefecture of the Papal Household
00120 Vatican City State
e-mail : ordinanze@pontificalisdomus.va
Fax: +39 06 6988 5863
Papal Basilicas in Rome
Papal Basilica of Saint Peter - Vatican
General Information: fax +39.06.698.85518
Sacristy +39.06.698.83712
Daily Mass Schedule:
9 - 10 - 11 - 12 - 17 hs.
Sundays and Holiday Mass Schedule:
9 - 10.30 - 11.30 - 12.15 - 13 - 16 - 17.30 hs.
Only for information concerning the celebration of Sacraments:
Baptism of newborn babies, Confirmation of adults, Marriages
Parish Office: fax +39.06.698.85793
Basilica of Saint John Lateran
Piazza di San Giovanni in Laterano, 4
Sacristy +39.06.69886433
Parish Office +39.06.69886433
Mass Times:
Winter Schedule: 7 - 8 - 9 - 10 - 11 - 12 - 17 (Sunday 17-18)
Summer Schedule: 7 - 8 - 9 - 10 - 11 - 12 - 18
Basilica of Saint Mary Major
Via Liberiana, 27
Sacristy +39.06.483195
Parish Office - Via Carlo Alberto, 47 +39.06.4465836
Reception - Via Liberiana, 27 +39.06.4814287
Mass Times:
Sunday: 7 - 8 - 9 - 10 - 11 - 12 - 18hs
Monday-Saturday: 7 - 8 - 9 - 10 - 11,15 - 12 - 18 hs
Basilica of Saint Paul Outside the Walls
Via Ostiense, 186
Sacristy +39.06.5410341/5410342/5410343
Parish Office +39.06.5410178
Mass Times:
Winter Schedule: Sunday: 7 - 8 - 9 - 10.30 - 17.45 (Daylight saving) - 18 (standard time)
Summer Schedule: Monday - Friday: 7 - 8 - 9 - 10.30 - 12 - 18